Mogwooni Homestead Laikipia | Mogwooni Cottage | Mogwooni Homestead Rates | Mogwooni Homestead Nanyuki | Mogwooni Guest House | Laikipia Holiday Homes | Laikipia Accommodation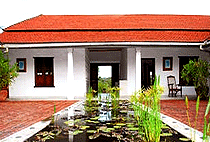 Mogwooni Homestead Laikipia is a holiday home located in the beautiful 30,000 acre Mogwooni private cattle ranch in the Laikipia plateau. The home is a Thai influenced Colonial house, which is positioned with views of Mt Kenya, the Loldaiga hills and the abundant riverine trees, which flank the Nanyuki River.
The homestead sleeps maximum of 8 and comes fully catered. All guestrooms are bright and airy to ensure all the guests are comfortable.
The cottage nestles within green lawns and sits a short walk from the swimming pool where guests can relax and enjoy the myriad bird life and striking views of trees and bush and peaceful sound of the river running nearby.
There are private courtyards where at night guests may lie and look up at the stars and moon surrounded by burning candles and listen to the silence of the African night. Here guests can enjoy the sounds of the African night including Hyena and Scops owls.
Homemade meals are prepared in the kitchen with very high standard using local ingredients and organically grown vegetables from the garden. Guests can enjoy their meals in the dining room.
Activities in the Mogwooni Homestead Laikipia include heli fishing in Mount Kenya, horse riding, bush walks, game drives, biking scenic flights, bowling, croquet, sundowner, fly camping and walk with camels. Guests can also enjoy tour around Mogwooni flower farm.