Fort Jesus Museum & Jumba la Mtwana Ruins Site - 1 Day Mombasa Tour
Mombasa City Tours 1 Day Fort Jesus Jumba Ruins Trip is a popular guided day tour that explores the historical sites of Mombasa, including Fort Jesus National Museum and Jumba la Mtwana Ruins site. Our 1-Day Mombasa historical sites Adventure starts with collection from your hotel in Mombasa at 0800 hours. We visit the Fort Jesus Museum, a fortress built by the Portuguese during the late 16th century in the Old Town of Mombasa. This fort is now a significant historical landmark in Kenya managed by the National Museums Association of Kenya. The museum is also registered as a UNESCO World Heritage Site. The guided tour of fort Jesus Museum takes about 1-3 hours to look around depending on your interest and level of fitness.
Our historical sites of Mombasa tour also visit Jumba la Mtwana – located a little less than 13 miles (20 km) from the island Mombasa near Mtwapa Creek and the ruins are all that remains of the small historical Swahili town that was deserted about 500 years ago. Excavation of the site began in 1972, and ten years later the site was recognized as a National Monument. The ruins give you a unique insight into yesteryear life in a small coastal settlement and a wonderful opportunity to see the historical architecture of the village and its breathtaking setting along the Indian Ocean coastline!  Our historical sites of Mombasa include lunch at Jumba Ruins Monsoons Restaurant and later visit a local school before returning to your accommodation in the early evening, bringing your action-packed day tour to a close.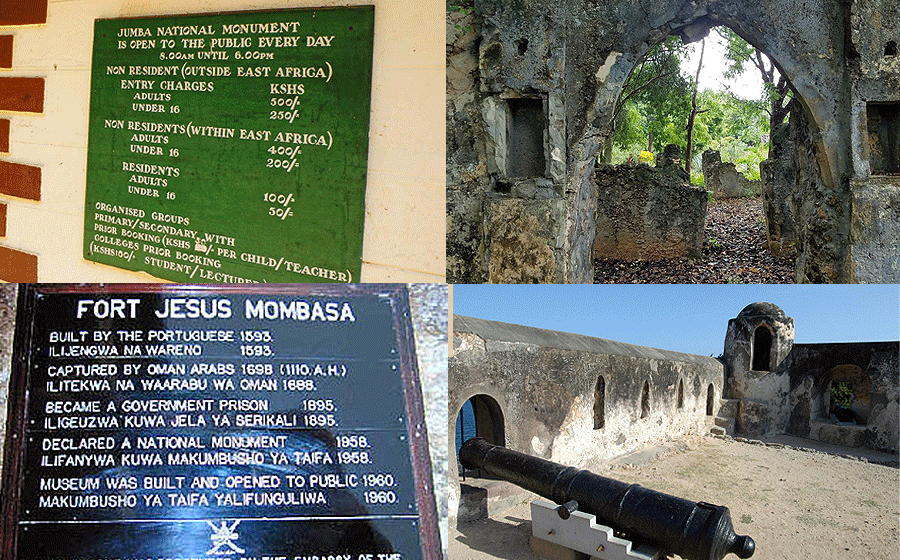 1 Day Fort Jesus Museum & Jumba Ruins Site historical tour of Mombasa explores the historical sites of Mombasa which include Fort Jesus and Jumba Ruins. A visit to a local school is also included. Our Mombasa historical sites tour begins with a visit to the Fort Jesus Museum.
Wandering the fort grounds is an insightful journey through Mombasa's history. The fort, located along the coastline near the Old Town, is a monumental piece of architecture built in the 16th century by the Portuguese.
Fort Jesus Museum displays various artifacts from the era when Mombasa served as a transit point for the slave trade and commodities, and which enjoyed regular visits by seafarers and the like. Its interior comprises of torture rooms and prison cells where slaves were kept in captivity before being traded.
Weapons such as canons, which were used to defend the fort from invading foreigners and rioting locals, can be seen both inside and outside the fort. The fort opens its gates for viewing in the morning and closes at dusk. The museum opened in 1962 and has become a popular attraction for tourists, students, and researchers.
Our historical sites of Mombasa tour also visit Jumba la Mtwana. This museum was opened to the public in 1973 and was gazetted as a national monument in 1982. Jumba la Mtwana also known as "Jumba Ruins" is located approximately 20 kilometers north of Mombasa in Mtwapa.
The site represents the remains of a 14th-century Swahili settlement that was occupied for about one century before abandonment. While the name literally means "large house of the slave", there is neither historical nor archaeological evidence that suggests that this may have been the case.
There are no historical records on the settlement; as a result, what is known has been deduced from the ruins which were excavated by James Kirkman in 1972. The settlement was likely built around 1350, inhabited, and then abandoned a century later. It is not certain whether 'Jumba la Mtwana' was the settlement's name at the time of occupation.
However, one thing that is certain is that the inhabitants were Muslim evidenced by the ruins of 4 mosques, washing platforms,s and water cisterns. There are ruins (old coral stone walls) of 4 mosques, 4 domestic houses, and a tomb that has survived in recognizable condition situated among huge baobab trees on grassy slopes that descend to the sea.
These ancient ruins provide a sense of what life must have been like over 600 years ago when it was home to the Swahili fishermen, craftsmen, and merchants who traded precious products from the African interior with their maritime trading partners in India and Arabia.
Excavations of the site have revealed numerous artifacts including decorated local pottery and shell beads, imported Chinese and Islamic ceramics, and glass beads. We have lunch at Jumba Ruins Monsoons Restaurant and later visit a local school before returning back to your hotel/ residence.
Mombasa City Tours 1 Day Fort Jesus Jumba Ruins Trip Prices
 1-Day Fort Jesus Jumba Ruins Trip Rates Includes:
Professional English-speaking guides + All entry fees, guide fees, service charges, and taxes + Mombasa City Tours 1 Day Fort Jesus Jumba Ruins Trip & Pickup from your hotel in Mombasa and drop-off to your hotel
| Dates From | Dates To | Price Per Person | Children Aged 3 to 12 Years |
| --- | --- | --- | --- |
| 1st January 2023 | 31st December 2023 | Request for rates | Request for rates |
Notes
* Our 1-Day Fort Jesus Jumba Ruins Trip time: 0900 Hours – 1600 Hours
---
1-Day Fort Jesus Jumba Ruins Trip Rates Do Not Include:
* Drinks
* Laundry
* Tips or gratuity
* Travelers Insurance
* Communication charges
* Lunch (option and extra charges direct)
* Visas, international airfares, and airport taxes
* Sightseeing not included in the package; optional activities
* Personal expenses such as transfers to/ from the airport (supplement airport transfer cost applies for tours starting from the airport)
Booking & Reservations 1 Day Fort Jesus Museum & Jumba Ruins Site Historical Tour Contact