Penety Amboseli Resort Kimana
Penety Amboseli Resort Kimana is a 3-star hotel with 50 rooms located 2 km from Kimana Town and only 4 kilometers from the Kimana Sanctuary main gate. The resort is located 25 kilometers from Amboseli National Park near Kimana Gate. It is 2 km from Kimana and between Kimana town and Isinet town. The resort is located 220 kilometers from Nairobi 30 kilometers from Amboseli airstrip and 4 kilometers from Kamana Sanctuary Airstrip. It is 200 meters from the Emali Loitotok highway, 1 kilometer from the Kimana police station, and commands panoramic views of the snow-capped Mt Kilimanjaro world's highest free-standing mountain.
The lodge features 50 individually and statefully furnished rooms all with a desk, bathrooms fitted with a shower, free toiletries, and slippers. The rooms are fitted with bed linen and towels. The hotel has an outdoor swimming pool, a terrace and a bar, free private parking, a garden, and a shared lounge. Penety Hotel offers a buffet, à la carte, or continental breakfast that can be enjoyed at the property. There is a restaurant serving African, American, and Dutch cuisine. Vegetarian, dairy-free, and halal options can also be requested. There is free WiFi throughout the property.
Activities at Penety Amboseli Resort include Amboseli National Park day trip, the Tsavo West National Park Day trip, a visit to the local Masai Market, a hike to rain forest and nearby riverbeds or even a day climb up Mount Kilimanjaro – the rooftop of Africa!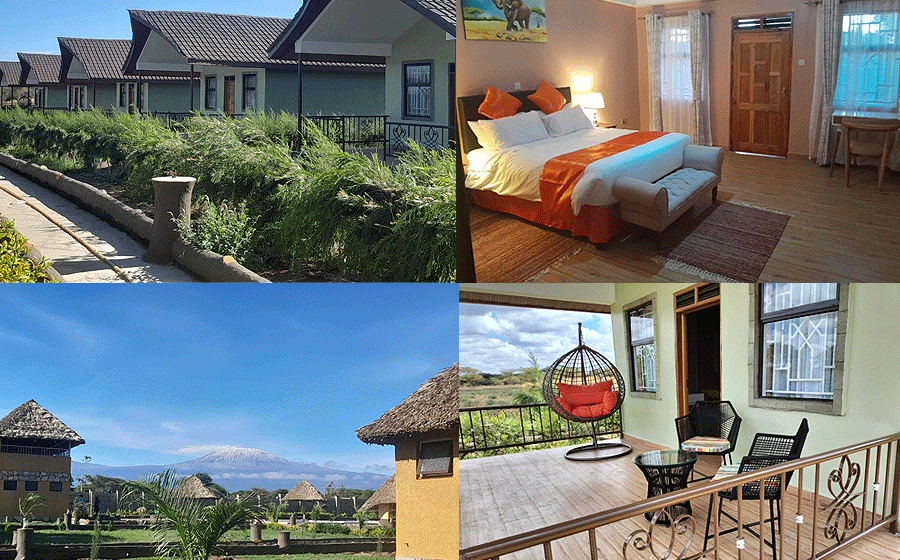 Penety Amboseli Resort Kimana
Penety Amboseli Resort Kimana Non-Resident Accommodation Rates
Penety Amboseli Resort Kimana Non-Resident Accommodation Rates Include;
Accommodation on Full Board basis, inclusive of taxes, catering levy and service charge
Dates From

Dates To
Single Room
(1 Guest)
Double Room
(2 Guests)

Triple Room
(3 Guests)

3rd Jan 2024

31st Mar 2024

130 US Dollars

200 US Dollars

280 US Dollars

1st Apr 2024
30th Jun 2024

120 US Dollars

170 US Dollars

250 US Dollars

1st Jul 2024

31st Aug 2024

150 US Dollars

250 US Dollars

350 US Dollars

1st Sep 2024
31st Oct 2024

130 US Dollars

200 US Dollars

280 US Dollars

1st Nov 2024

20th Dec 2024

120 US Dollars

170 US Dollars

250 US Dollars

21st Dec 2024
2nd Jan 2025

150 US Dollars

250 US Dollars

350 US Dollars
Notes;
* Up-to 3 years sharing with adult/s – No Charge
* Over 3 years up to 12 years sharing with 1 or 2 adults – Each child pays 50% of applicable per person adult double room rate
* Over 12 years up to 16 years sharing with 1 or 2 adults – Each child pays 75% of applicable per person adult double room rate
* Up to 16 years having exclusive use of room – Room will be charged at 75% of applicable full adult single/double/triple room rate
---
Extra Activities at an Extra Cost
* Transfers – 80 US Dollars per person (minimum 4 people)
* Picnic Lunch – 30 US Dollars per person (minimum 4 people)
* Nature Walk – 50 US Dollars per person (minimum 4 people)
* Bush Dinner – 80 US Dollars per person (minimum 4 people)
* Bush Breakfast – 70 US Dollars per person (minimum 4 people)
* Garden Breakfast – 60 US Dollars per person (minimum 4 people)
* Extra Lunch/Dinner – 40 US Dollars per person (minimum 4 people)
* Game Drives-Landcruiser – 80 US Dollars per person (minimum 4 people)
* Masai Boma accommodation – 90 US Dollars per person (minimum 4 people)
Penety Amboseli Resort Kimana
Penety Amboseli Resort Kimana Resident Accommodation Rates Include;
Accommodation on Full Board basis, inclusive of taxes, catering levy and service charge
Dates From

Dates To
Single Room
(1 Guest)
Double Room
(2 Guests)

Triple Room
(3 Guests)

3rd Jan 2024

31st Mar 2024

14,000




Kenya Shillings

24,500




Kenya Shillings

31,000




Kenya Shillings

1st Apr 2024

30th Jun 2024

13,000




Kenya Shillings

23,500




Kenya Shillings

32,000
Kenya Shillings

1st Jul 2024

31st Aug 2024

17,000




Kenya Shillings

29,000




Kenya Shillings

41,000




Kenya Shillings

1st Sep 2024

31st Oct 2024

14,000




Kenya Shillings

24,500




Kenya Shillings

31,000
Kenya Shillings

1st Nov 2024

20th Dec 2024

13,000




Kenya Shillings

23,500




Kenya Shillings

32,000




Kenya Shillings

21st Dec 2024

2nd Jan 2025

17,000




Kenya Shillings

29,000




Kenya Shillings

41,000
Kenya Shillings
Notes;
* Up-to 3 years sharing with adult/s – No Charge
* Over 3 years up to 12 years sharing with 1 or 2 adults – Each child pays 50% of applicable per person adult double room rate
* Over 12 years up to 16 years sharing with 1 or 2 adults – Each child pays 75% of applicable per person adult double room rate
* Up to 16 years having exclusive use of room – Room will be charged at 75% of applicable full adult single/double/triple room rate
---
Extra Activities at an Extra Cost
* Transfers – 8,000 Kenya Shillings per person (minimum 4 people)
* Picnic Lunch – 3,000 Kenya Shillings per person (minimum 4 people)
* Nature Walk – 5,000 Kenya Shillings per person (minimum 4 people)
* Bush Dinner – 8,000 Kenya Shillings per person (minimum 4 people)
* Bush Breakfast – 7,000 Kenya Shillings per person (minimum 4 people)
* Garden Breakfast – 6,000 Kenya Shillings per person (minimum 4 people)
* Extra Lunch/Dinner – 4,000 Kenya Shillings per person (minimum 4 people)
* Game Drives-Landcruiser – 8,000 Kenya Shillings per person (minimum 4 people)
* Masai Boma accommodation – 9,000 Kenya Shillings per person (minimum 4 people)
Booking & Reservations Penety Amboseli Resort Kimana Contact